Top 25 free WordPress rating plugins 2019: Essential for Professional Websites
Rating is an outstanding feature for review sites, how many rating a product has that much it will be appreciated by the customers. 
Sometimes we want to add rating or voting plugins for WordPress blog. This is a natural way to allow website visitor rate or vote your post/page or something else.
Modern Google algorithm started to show star ranks in Google SERP page that adds an additional service for blogs and review sites to develop their CTR in Google. If you need to show user ratings in SERP pages & You can add star ratings, custom-like buttons etc by using the following plugins.
Today I will share some of the Top free WordPress rating plugins here.
This plugin enables you to advanced thumbs rating and review method for post and comments in your blog. You can also add these star ratings to your sidebar, widget and other cool statistics created by this plugin.
It's packed full of features, is incredibly flexible and is very professional looking. The latest ratings and other statistics can be shown in your widget areas. It supports multi ratings and you can use thumbs up and down too. The plugin is reasonably not as user-friendly as some of the more basic plugins available, due to the absolute volume of features GD Star Rating packs. I still think it's the first plugin you should try when looking for a great free 25-star rating plugin.

Multi Rating provides a sleek way to add ratings to your site. The plugin allows you to customize average ratings based on five stars, a percentage or an aggregated score. You can also integrate the plugin with several add-ons, including the REST API, GRAVITY FORMS, and reCAPTCHA.
A powerful post rating/review system plugin for WordPress with a niche of doing multi ratings better than anyone else. Can also be used for polls, quizzes, voting, and surveys. The plugin included various shortcode to use easily.
Rating-Widget's star review system enables you to receive ratings and comment reviews on all type of content including WooCommerce products, author reviews, BuddyPress, bbPress, and more. The plugin claims to work out of the box and requires zero configuration.

This is the helpful plugin for adding a rating system with star icons. I especially used KK Star rating plugin for some projects. This plugin has the shortcode, you can add everywhere the rating system through shortcode.
KK Star Ratings allows blog visitors to connect and communicate more completely with your website by rating posts. As the name states, this plugin displays 5-star ratings in your posts/pages.
Features:
Choose anywhere to show the ratings. It can be on the homepage, archives, posts, pages or manually.
Check to vote per unique IP
Choose the position. Top left, top right, bottom left or bottom right.
Connect the initial message (when no ratings have occurred).
Allow the ratings to be visible on its own line (paragraph)
Reset the ratings for individual posts or the entire site.
The Polldaddy Polls and Rating plugin allows you to create and manage polls and ratings from within your WordPress dashboard. It has to build 20 styles also you can make your own styles in this plugin to display the poll or rating.
WP-PostRatings is another nice WordPress rating plugin. It not only works on post type also custom post types. This plugin is very easy to use.  t has a variety of options like manage rating, rating option, rating templates etc., and it has a variety of options to customize the plugin according to your themes.
Thumbs Rating sets up the simple rating process with two buttons: thumb up and thumbs down. The plugin allows the use of text, font icons or images for thumbs. If you're watching for something a bit different from stars and comments, you might think to add a thumbs rating to your content.
With Thumbs Rating, you can add "up" or "down" votes to a piece of content. This is an excellent feature to add to a forum, for example, where users can upvote or downvote a post. 
The plugin uses HTML5 Local Storage to prevent the users from voting twice and also maintains 20 different languages. You can set a custom size for text, icons or images.
If you are using NextGEN Gallery Voting plugin you can allow or disable personally ratings to images, you can set if registered or logged users can vote. It has 3 kinds of rating system which are 1-10 dropdown or 1-5 ratings or Like & Dislike.
Star rating was and remains popular among users and administrators, as it allows you not only to vote for the article you liked but also to judge it in points, which, naturally, allows you to get a better estimate and statistics. Yet Another Stars Rating (YASR) allows for both visitor reviews and voting reviews. You can also create various sets of stars for multiple tests of a page or post.
In addition to its impressive customization capabilities, it is well combined with Google's search engine, so your article's ranking will be displayed in search results.
Good news for users of the GD Star plug-in – they will be able to go to this new, painless system without pain, as Yasir can import GD Star data.

Are you looking for an excellent WordPress rating plugin which generates rating stars in Google search results more... and also allows your blog visitors a pro-active way to give feedback about your blog content and should be highly customizable to your needs? If so, please try.
This rating plugin is very useful when you want to offer ratings for any kind of products out of 5. You can offer to your users to rate your product or whatever you are blogging about. You can choose the names of the features that you are in.
Real-time engagement-boosting conversations service can drive more traffic to your website and provide the best opportunities for comments of users.
This is an extra addon to comment rating plugin which you had seen before, it displays ratings along with the most recent comments on your blog sidebar. As it features on the sidebar it really brings a lot of exposure to your blog comments as a result increase user action in your blog.
This plugin enables you to add a like button in your posts & pages. It also shows the number of likes on with the button like facebook, google+ etc. WP Custom Voting plugin track IP's, so people can't vote twice for the same post or page. So that's why you get a newer valuable comment in your post & pages.
Let users recommend your post by I Recommend This plugin. This plugin will add a simple like/recommend button into your post. Some users don't like to comment but often they like the post. So this plugin allows readers to like a post instead of discussing.
This plugin adds a shortcode tag that will display a rating in one of several formats.
Features:
Input ratings as a fraction (4/5) or a percentage (80%).
Use any amount of stars from 2 to 100.
Set the minimal star fraction allowed, whole, half or quarter.
Split multiple ratings in one post/page into groups, and have a separate overall rating calculated for each.
Display the rating as image stars, text stars, a percentage, a fraction, or any combination.
Multiple star image sets included, others can be easily added.
If you are looking for social ratings alternatively of just star ratings, then Like Button rating could be the best option for you. The like ratings could simply be added to posts, pages, forums, custom post types, WooCommerce products and even comments. The plugin settings come with almost 80 parameter options along with real-time reports and voting statistics.
Rate This Page Plugin is a Wikipedia Article Feedback Tool similar to the plugin anywhere you can rate individual posts or pages of your blog.
This plugin contains the following features: Experience to select where the plugin UI will be located on the content; Touch to choose insert if both on Page, Category or Both; Admin can view opinions of rated posts or pages; The label can also be customized based on the like of the admin to be its label. Managing cookies, the plugin stores a session if a guest user rates specific posts or pages and it uses AJAX to store the rating information.
Universal Star Rating is another awesome rating plugin in 2018. They provide 2 shortcodes to give the author the opportunity to add ratings and reviews for desired data, products and services with the aid of a famous star rating system. You can make use of these shortcodes to embed a single inline star rating or a tabular list of star ratings. The plugin Supported two  Languages ( English, German)
The Comment Rating Field Plugin allows your site visitor to submit a rating along with their comment optionally. It goes on to add a 5 star towards the end of a comment form in WordPress. It is intended uniquely for the site visitors and allows them to leave their ratings through comments.
The best part is that it is easy to use. It allows you to choose wherever you want to allow user comments. The extra immeasurable features about this plugin are the average rating feature for all the ratings submitted under individual posts or pages. So, if you want to allow your visitors to vote via comments, then the Comment Rating Field Plugin will prove a very effective one.
WP Product Review Lite allows you to have in-depth reviews of your posts with ratings, pros and cons, rich snippets, member links, and user reviews. It reaches as a free WordPress Review Plugin and allows you to build well-styled own reviews as well as allows you to accept reviews from other customers. The Plugin allows you to allow user reviews so that your readers can add their reviews by using custom rules specified by you.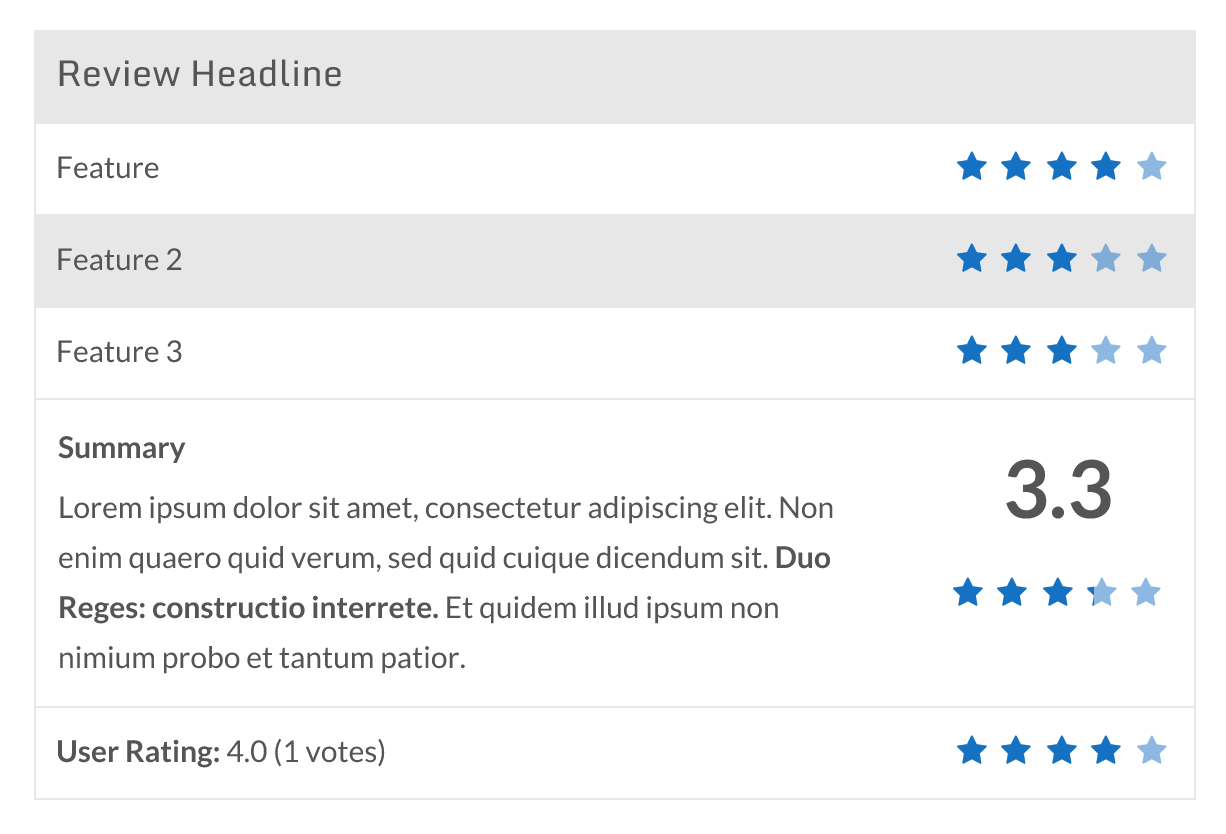 WP Review plugin is an easy powerful way to review content easily, without changing the speed of your site. If you're a blogger, you probably occasionally review or rank products, services, tools, methods, or other content on your site.
It is a WPMU-compatible plugin and provides full support for Google rich snippets. WP Review plugin is a customizable and lightweight way to create reviews, using stars, percentage or point rating, and it includes support for translation, WPMU, Google rich snippets and unlimited colors.
You can also customize the reviews by using custom CSS. It is a lightweight plugin which allows you to edit the default review fields. You can also add additional fields. Using WP Review Plugin, you can add the reviews before or after the post content. It also enables to display the review on the sidebar.
Just install it and follow the simple configuration instructions to place it in your desired location.
Do you know that 63% of customers are more likely to make an online purchase from a site that displays user reviews? The Rich Reviews plugin empowers you to easily gather user reviews for your business, website, or individual products/pages and display them anywhere on your WordPress site. 
These rating reviews, called rich snippets, have become the main focus on Google in ranking individual pages in SERPs, and Rich Reviews makes sure they are readable visible.
Kudos is also a nice ajax like the plugin to add an animated like button into the post. It also allows users to vote one that means users can't vote twice for the same posts. See the plugin on action Kudos.
Yet another plugin that enables visitors to vote up or down against post, a functionality similar to Reddit and Digg.
Guests can also vote for posts. This functionality can be disabled as well.
A widget can be displayed showing the most voted posts on your blog, giving further exposure to your popular posts.
It allows you to easily add ratings on your blog, you can even add your own custom image as the star of the ratings. You can even use your own pictures for the stars of the ratings. There is also text support for RSS feeds.