Top 10 Best Domain Registrars 2018
Are you looking for a domain name with cheap price for your website? But you have a Question inside really I get the best domain for a cheap price is it True or False.
Yes, It's true. You come into the right place to buy a top-level domain at a cheap price.
All websites, no matter how big or small, need a domain name.
Every great website needs a snappy, memorable domain name. Coming up with something new is a serious challenge, but once revelation strikes, you'll need to register that name with a domain name registrar before you can use it online.
You can purchase domain names through domain registrars. Or, you might already own a domain and want to transfer it to a new registrar.
Either way, it can be hard to know which registrar is best for yours? Like the site's goals, your budget, and your needs.
Some registrars are more expensive than others, and some lack free features that others have to offer, such as domain privacy protection. That's why I've compiled a list of the top 10 best domain registrars.
Top 10 Best Domain Registrars List 2018
[table id=16 /]
1.Namecheap.com
NameCheap is a leading Domain Registrar that is approved by ICANN. It was founded in 2000 and has made a strong market share on the Internet.
According to the company, it has provided over 4 Million Domain Names to the customers throughout the world. It provides additional services like Web Hosting, Security and Cloud-Based services also.
Namecheap is a better choice to Godaddy also offers SSL certificate at the budget price. The plus point is that domains from Namecheap come with free whois privacy.
Features of Namecheap
Lower domain price
Provides hosting and SSL at lower prices
Privacy protection is free.
Superfast Customer Support
Pros
Clean and User-friendly Dashboard
Cheap and Affordable Pricing
Customer support is excellent
Cons
Payment options are less
Privacy Protection is for first year only
Auto renewal of domains can be glitchy
2.BlueHost.com
Bluehost was founded in 2003, and it's based out of Provo, UT. Endurance International Group (EIG), one of the largest hosting conglomerates on the planet, owns the company.
As part of their web hosting service, they also offer domain name registration. Another it offers one-year free Domain Services, yet it charges higher than average for Domain Renewal.
BlueHost has a different type of plans for registering different Domain Names.
Though, if you don't plan to use Bluehost as your web host or you want to register also than one domain, expect to pay $11.99 per year for each domain.

Domain Privacy Protection is an extra $0.99 per month which will cost you a good total of $11.88 per year. Altogether, you'll pay $23.87 per year for your domain and privacy protection.
3.BigRock.com
BigRock is an ICANN approved Domain registrar leading Company to Small Businesses or Individuals. It is India's most popular Domain service provider company. BigRock provides a complete suite of products. It has more than 6 Million customers.
BigRock provides a wide range of online products includes – domain registration, business-class email services (including anti-spam & anti-virus features), web-hosting services, website builder products, e-commerce solutions and digital certificates.
Features of Bigrock
Bigrock Provides Great deals every month for domain and Hosting
Lower domain price on the purchase of first or for Two years
Provides hosting and SSL at lower prices with an amazing discount.
Free custom email services.
Superfast Customer Support
Pros
Cheapest First year domain registration
Customer support is Great.
User-friendly Dashboard
Cons
No Free Whois Privacy
Not suprise
4.Domain.com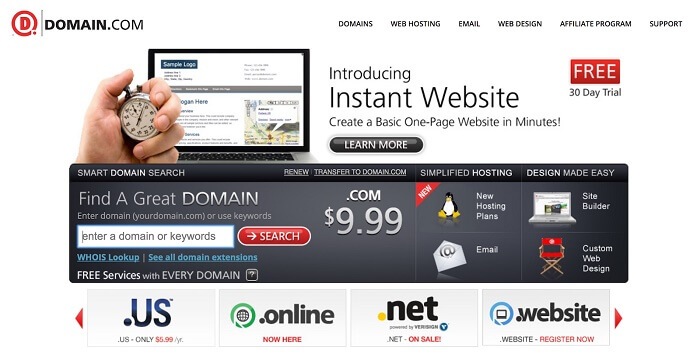 Founded in 2000, Domain.com is considered one of the biggest providers of domain names and various web hosting services in the world. Domain.com has a range of hosting plans, which includes some niche services, but its main focus is affordable shared hosting. Pricing plans are split into Windows and Linux variants. The company also has a handful of VPS hosting packages.
Features of Domain.com
SSL support, Password Protected Directory;
Data backups, full network redundancy, 24×7 security monitoring.
Marketing tools ($100 Google AdWords, $100 Bing Ad Credit, YellowPages listing, toll-free phone number – US);
Auto Responders
Python
Phone Support
Pros
Simple hosting options with the choice of Linux and Windows OS
Affordable prices
Great customer support
Cons
Limited features
Slow uptime
5.One.com
Launched in 2002 in Denmark, One.com has become one of the leading suppliers of hosting and domain names in Europe.
Hold in mind that you don't have to live in Europe to take advantage of One.com's hosting and domain services. In case, the company provides support to roughly 150 countries around the world.
The One.com website asserts that the company is currently in a strong financial position, with almost 300 employees and a growing business that doesn't seem to be slowing down.
Features of One.com
Unlimited transfer
Support-Phone, Live chat, Knowledgebase
A user-friendly control panel
SSL certificate
No limits on the number of sites or domains
Free backup
Pros
Massive storage capacity
Multi-lingual support options
Developed for inexperienced and novice users
Very easy to use; if you want to get your website set up with as little hassle as possible, you will not find a host that is easier to use
Cons
No cPanel
No Uptime guarantee
Its limited feature-set may not be appealing to those who have a large or complex website.
6.HostGator.com

Hostgator is a great domain registrar and popular WordPress hosting company allowing quite good services at the lowest prices. Hostgator is the best web hosting for WordPress users, and many experts recommend this one for WordPress sites.
It was founded in 2002. Their hosting plans are very affordable for new and old websites. HostGator growing very swiftly and has a base of 9,000,000 websites hosted on their platform
Pros
Free migration service;
Courtesy off-site backups;
Free advertising offers;
24/7 support.
Plesk & cPanel control panels;
Free SSL
WHOIS privacy
Cons
Long commitment periods – discounted prices are only available if you commit to HostGator for a few years;
7.InMotionHosting.com
InMotion Hosting was founded in 2001, and it's based out of Los Angeles, CA. The company also owns a data centre located in Ashburn, VA.
InMotion Hosting is a privately owned company that owns over 300,000 domains. They also own Web Hosting Hub, which is a web host created for beginners and bloggers.
InMotionHosting has been awarded CNET-certified hosting for the last 14 years because of excellent service, secure web transactions, and best business methods.
If you're looking for a fast hosting within budget, free domain name, free data backups, and unlimited data storage then give them a try.
I am sure you won't found them unsatisfied. Their servers are blazingly fast as they use SSD drives.
Pros
SSD as standard.
High-speed connections with the most popular ISPs in the USA.
An excellent selection of high-quality WordPress themes.
24/7 support.
SSL
Outstanding tech support from talented technicians.
Great onboarding process.
Cons
The highest level of services are only available to "Pro" level account holders.
The basic plans are competitively priced, but to get around the limitations, you have to pay for the professional plan, which is more expensive.
8.DreamHost.com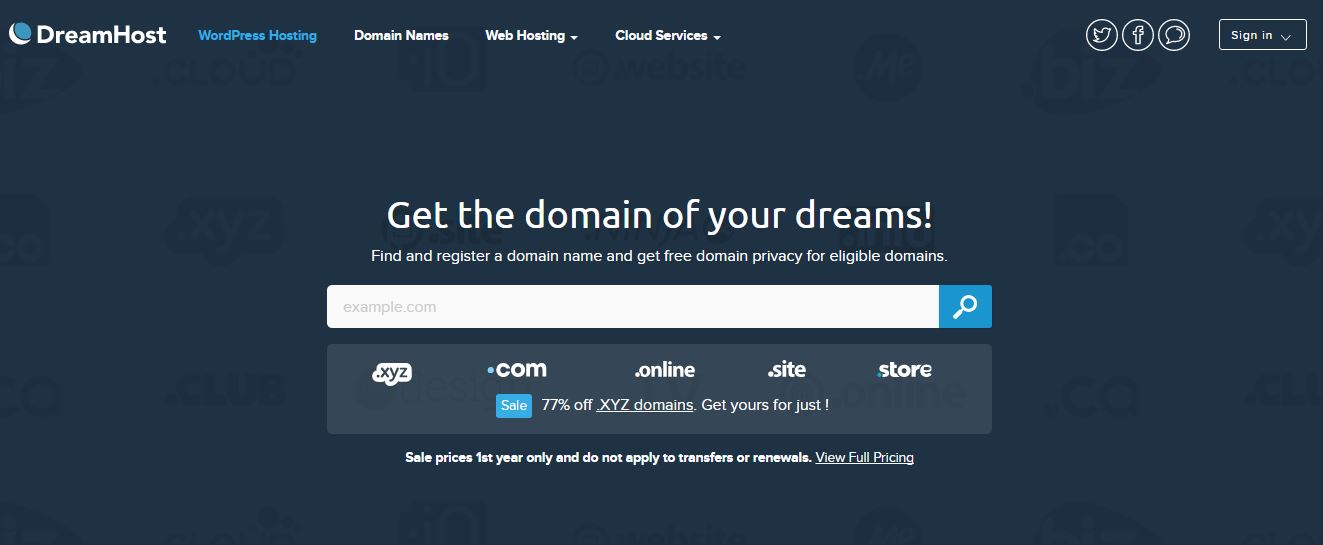 Dreamhost was established way back in 1997. Today they're a full-fledged hosting provider and domain name registrar.
They now host over 1.5 million websites and have over 400,000 customers. If you're looking for a domain name registrar that also offers to host, then Dreamhost might be a good choice for you.
Pros
Unlimited Data Transfer per Month
Good Customer Care
Fast SSD Servers
Comprehensive Domain Management Tools
Free domain name with hosting plan
Cons
No telephone support.
No reseller hosting plan.
No Windows-based shared hosting
A Couple of Features are Locked Behind a Pay-wall
9.iPage.com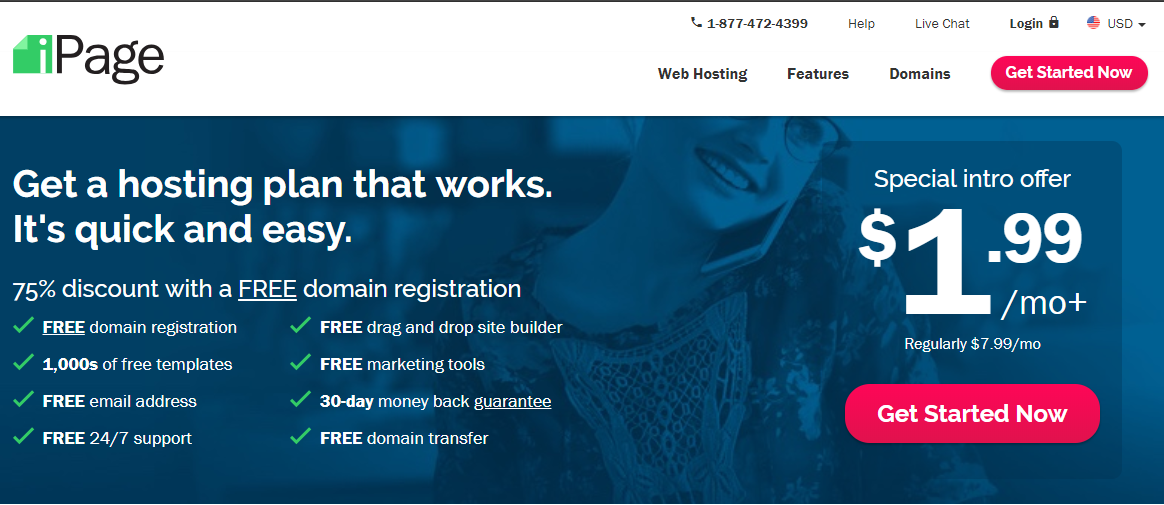 iPage Hosting is an Endurance International Group (EIG) brand, acquired in 2010 from founder Thomas Gorny.
EIG has been around for about 20 years, and they're a force to be reckoned with, to say the least.
Pros
Eco-friendly
Good Customer Care
Affordable eCommerce Hosting
Easy to Use
Free domain name with hosting plan and SSL
Cons
No Upgrade Options
Expensive Renewal Pricing
Excessive Upselling